Digitex Trading Software
The Digitex Trading Software product suite incorporates powerful, flexible and intuitive software modules and data sets to enable broadcasters and saleshouses to manage and improve the efficiency and profitability of their airtime sales operations.
The DTS applications have been developed over the past 15 years in collaboration with major broadcasters and saleshouses resulting in a comprehensive solution for planning and selling advertisements.
The sales software modules are Mediapro, Traffic and MP Reports fully integrated with the finance application Dimensions.
Access to Sky Viewing Data is available to all DTS users through the Digitex Trading Platform. The DTP is free to media sellers and additional modules can be unlocked if you subscribe to Sky Viewing Data through DTS.
The core module, Mediapro, is used by the sales & marketing teams. It is designed to help you implement various sales strategies responding to specific market and commercial requirements thereby enhancing the service provided to media buyers and simplifying back office operations.
Traffic gives the sales operations department control over the commercials on air and the final running orders whilst MP Reports, used by all, gives extensive business intelligence capabilities via user definable reports allowing users to easily access any data contained within the system.
Dimensions is a full blown accountancy package with numerous additional modules to satisfy the book-keeping and accounting needs of any small to medium enterprise.
Features include:
multi-channel – cross channel set-up, booking and campaign reporting
multi-saleshouse – the ability to have multiple sales agents accessing and booking into the same schedule with fully configurable rights management
multi-currency
multi-deal type – cost per spot, cost per daypart, cost per programme and cost per thousand ratings based sales models fully supported and interchangeable
supports BARB and Sky ratings data
extensive invoicing options and templates
autoslot and optimisation options within or across channels
fully integrated with Caria – UK media agency buying system
fully integrated with Digitex Trading Platform
fully BARB compliant for as run publication
integrates with virtually any CRM, Finance, Channel Management or Research/Ratings software products, and supports custom interfaces to any third-party software products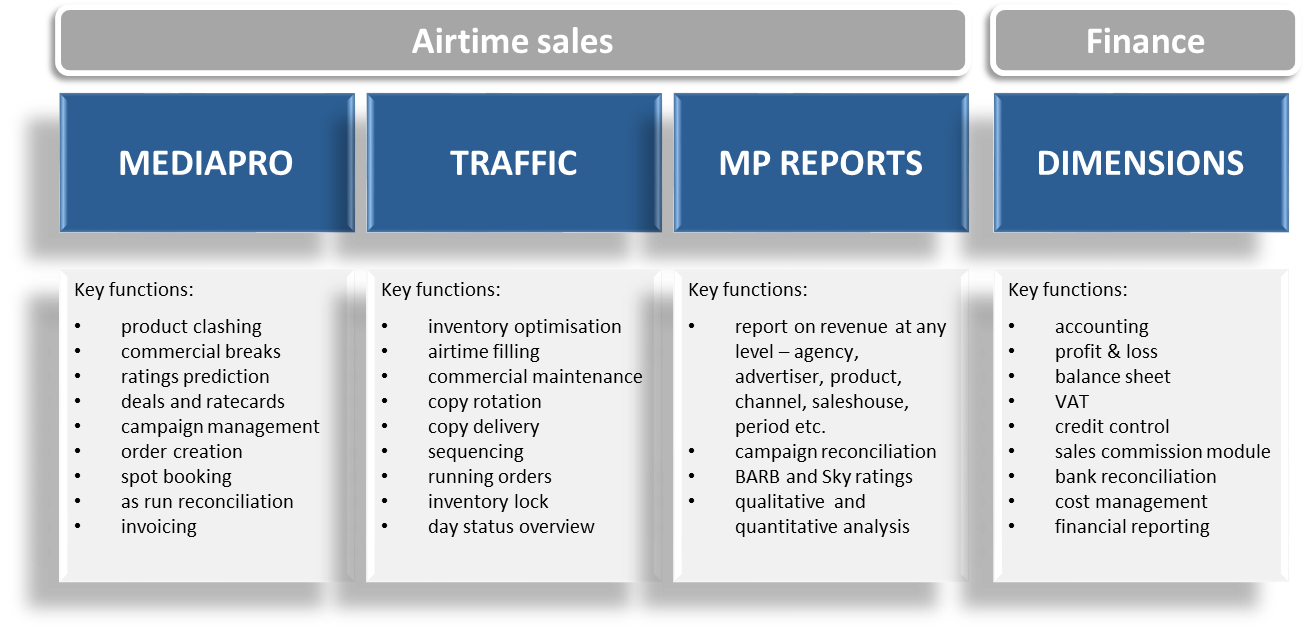 New users will be able to begin enjoying the benefits of DTS right away, recognizing that this is a product suite that has been designed to work the way you do. Whether it's a central user in the sales and traffic department, a sales manager or sales operations, MediaPro gives each user access to rich functionality, powerful automation, control and flexible reporting.